Press Release
GRANDMOTHER & GRANDDAUGHTER RELEASE NEW CHILDREN'S BOOK
Local Teacher, Playwright & Grandmother, Bonita M. Sparks Adams,
& Her Kindergarten Granddaughter Release A New Children's Book
Write The Vision Publishing LLC is proud to release a new children's book written by Bonita M. Sparks Adams entitled: Aria's & Grandmommy's Adventures - Solving the Mystery of Fire: The Good & The Bad. Bonita and her granddaughter, Aria, worked on the book together. The book was an Amazon #1 New Release in Children's Safety Books. The book is in hardcover, paperback and eBook formats. This is her third new book in less than a year. On June 19, 2020, she released two new books: Overwhelmed? Finding Help in Psalm 37 Devotional & Journal & ACTIVATE: Secret Agents in Spiritual Warfare.
BOOK DESCRIPTION
Aria is a kindergarten superhero who likes to help others and share lessons she has learned with other children. She has a vivid imagination. With her grandmommy by her side, they go on various adventures. This book's adventure involves learning good and bad things about fire and how love is like fire. Do you wonder what Aria will find out? Also, after a visit to Fire Chief Brian, Aria shares tips on fire safety and fire prevention. Aria lives in a different state from her grandparents and they only see each other a few times a year. But when they do, it is an adventure of learning new things and having fun together. Hopefully, you will be inspired to go on your own adventures, too!
REVIEW:
"Aria's and Grandmommy's Adventures is a beautiful story about the love of a family and how that love teaches us to love others. Aria is a true superhero because she wants to share her love of others by teaching them to be safe from fire. Keeping people safe is the ultimate expression of love!" - Chief Brian Byrd, Toledo Fire & Rescue Department

The Hardcover is $17.99, Paperback $12.99 & eBook $6.99 plus tax and can be purchased on Amazon at: amazon.com/author/bonitamsparksadams or Barnes&Noble.com. You can get a signed copy through her website: writethevisionpub.com or by contacting Bonita at 419-215-1464 or writethevisionpub@gmail.com, or James at 419-508-8919 for more information.

Feature Story in Sunday, March 28, 2021 edition of The Blade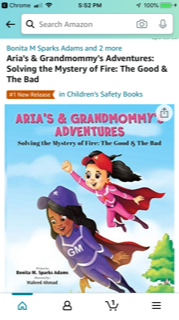 For press inquiries and personal appearances please contact:
Bonita Adams
Write The Vision Publishing LLC
427 W. Dussel Dr., #223
Maumee, OH 43537
writethevisionpub@gmail.com