Aria's & Grandmommy's Adventures - Solving the Mystery of Germs: The Good & The Bad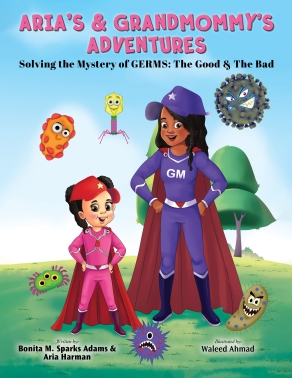 Aria's & Grandmommy's Adventures
Published by Write The Vision Publishing LLC
Buy from:

"I love this book! Great message, great voice, and wonderful pictures! This is perfect timing for children experiencing a pandemic." -Lou Edje, MD, MHPE, FAAFP, Associate Dean for Graduate Medical Education, Professor of Medical Education, Family & Community Medicine, University of Cincinnati College of Medicine

Are all germs bad? Are any germs good for you? Are you ready to go on an adventure to find out?
These are some questions Aria had after a conversation with her grandmommy about COVID-19. Aria is a kindergarten superhero who likes to help others. So she sets out on an adventure with her grandmommy to discover more about germs. What do you think she will find out? Aria learns a lot and shares several tips with her cousins to help protect them from bad germs that can make you sick. Will you be a Germ Fighter too?
This colorful picture book is perfect for helping parents and caregivers who are concerned about children and their personal hygiene and want to encourage them to be more proactive in practicing healthy habits or educators who want to introduce Science, Technology, Engineering, and Math (STEM) topics to young children. It explains in a simple manner the good and the bad of four types of germs: bacteria, viruses, fungi & protozoa. It also helps children get excited about what they can do to fight the spreading of bad germs.
Hardcover | 42 pages | $17.99 USD | 8.5 x 11 | 978-1-7361006-2-2 | April 9, 2022